What is Stop Motion?
Japan Brickfest is looking for talented Brickfilm and CG film makers who are interested in entering our Stop Motion Film Competition.
Stop motion refers to the process of taking lots of photos and connecting them together to create an animated film.
This year's competition has 2 categories:
Medium Film (under five minutes)
CG (under five minutes).
Successful applicants in these categories will have their films screened in a theatre during Japan Brickfest where viewers will vote for the best film. This year viewers will receive a program that includes the names of the films and a voting ballot. They will mark their vote on this ballot and put it in a white box when leaving the theatre.
Winners will be announced on the 10th (Sunday) in the Black Box Theatre, as well as on the official Japan Brickfest Twitter and Facebook accounts.
This competition is free to join and anybody is welcome to enter.
All details are subject to change
Event Details
Screenings: To be announced
Where: Theater, Canadian Academy
Registration Period: 2018/4/28 (Saturday) 23:59 (Japan Standard Time)
Registration period extended to 2018/5/12 (Saturday) 23:59 (Japan Standard Time) due to some technical issues.
Who can join?
This competition is open to everyone. You do not have to attend Japan Brickfest 2018 to enter. It is also open to international film makers who wish to share their work at our event.
How to Enter
Interested in joining the 2018 Stop Motion Competition? Please fill out this form!
Please submit your film by April 28th, 2018 at 23:59 (Japan Standard Time).
The registration period has been extended to 2018/5/12 (Saturday) 23:59 (Japan Standard Time) due to some technical issues.
Limited to one entry per person. Please be sure to read all of the rules carefully. It may not be possible to screen all entries.
Winner's Prizes
LEGO® Batman Movie Arkham Asylum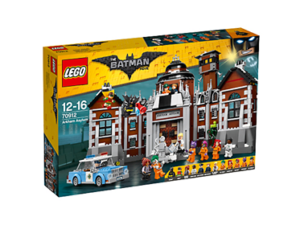 Competition Rules
We can currently only accept movie formats which can be played by Windows Media Player 12. Click here for technical details.
You must use only LEGO® products in your films. No clone or other brick brands. CG films should be based on LEGO® products.
Your stop motion film must use more than 5 photos per 1 second. (for non-CG films)
You can modify your photos and add subtitles.
Films with poor image quality may be rejected.
All films must be child-friendly. Any films considered offensive, including those that contain nudity, excess gore or violence, or racism will not be accepted. Films that lack content will also not be accepted.
Rules are subject to change.
You may enter your film in this event even if you are unable to attend JBF2018
We are unable to accept any entries submitted outside of the entry period.
We reserve the right to screen your video for promotional purposes.