Exclusive Interview by Kris Enri and Mamoru Tanabe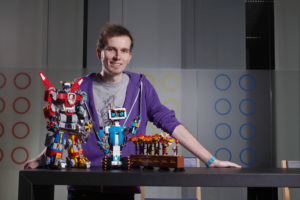 1. Can you please introduce yourself briefly to everyone?
Hey, I am Niek! I have been a model designer for LEGO® for 3.5 years. I worked on LEGO BOOST, LEGO IDEAS Voltron, the Chinese New Year sets, LEGO® Ninjago, and most recently LEGO® Hidden Side. I tend to jump on projects when they need a burst of energy. I am originally from the Netherlands, but I live and work in Denmark. I come from the fan community and I have a bachelor degree in Design and like to draw art as a hobby.
2. Who or what influenced you creatively growing up?
I loved LEGO® since I was about 3, when I wouldn't be able to build, I would be looking at catalogs. I loved cartoons as a kid, especially ones with sci-fi undertones. I loved Medabots and movies like Treasure Planet. The media I consumed would often be quickly integrated into the stuff I would build and draw.
3. Have you always been a fan of robots or mecha? If so, give us your top three robots.
I have always loved robots and mecha, I remember watching Iron Giant for the first time and being entranced. Robots aren't nearly as prevalent in European media, but I remember that if a movie or show had a robot in it, that would be my favorite part. Later on, when I was old enough to look beyond what was on the TV, I discovered mecha as a genre.
Top 3 robots:
1. Gurren Lagann (duh)
2. Canti from FLCL
3. Cherno Alpha from Pacific Rim
4. What was the very first LEGO® set you owned?
It was 6625, I remember getting it for my birthday.
5. How many models have you built to date?
I have made 4 sets that have come out and I have finished another 4 that will come out next year.
6. Can you give us your top three all-time favorite builds, and why?
I am going to base this list on my views as a toy designer, so they may not look like perfect models, but I think they capture a great spirit and have fantastic play.
1. 7313 Red Planet Protector. It's the first real LEGO® Mech I got and it means a lot to me. It can rearrange to form into a small flyer.
2. 4940 Granite Grinder. The swiveling legs on this set are so simple yet so effective, it really feels like you are walking around a huge mech. Also, massive drill!!!
3. 76031 Hulkbuster Smash. I am not a huge Marvel fan, but the Hulkbuster in this set is in my opinion the best LEGO® mech toy we have ever made, it is robust but with a lot of really nicely done detailing. An absolute masterpiece and pleasure to build and play with.
7. What is your dream build or project?
Anything mech related. Either an IP or something original. I would love to do a Gurren Lagann or Mazinger Z set. If it would be an original thing, I would love to work on a mecha theme, something like Exo-Force. I have a lot of mech designs in my backlog that I try to sell to different playthemes that could finally find a home.
8. What inspires you?
I watch a lot of anime, especially action focused shows. My biggest personal inspiration is Studio Trigger, their use of shapes and proportions for characters combined with their break-neck pace and story never ceases to amaze and inspire me. I also love to play board games, miniature games and video games. I must admit that when I look for inspiration, I tend to go for the more outrageous sources, I love over the top ideas, designs and color schemes.
9. What kind of difficulties do you encounter creatively?
The amount requirements a product has to adhere to are extremely overwhelming. Just making something look cool is only a tiny piece in this puzzle. The models I build need to be buildable by the appropriate age group taken from the point of view that this is their very first LEGO® experience. They need to easy to play with as well as safe and stable after long periods of time. The model will need to be marketable. The list goes on. As a creative in the middle of all this, you need to learn to live with compromising on some of the aesthetics and personal opinions on models. This can be extremely hard, because it often results in killing the things you love the most.
10. How do you become a LEGO® Designer?
There is no 1 set way. The people I work here have all walked completely different paths, some of them are biologists, others are video producers. I think what is most important is loving building with LEGO® and a passion to inspire the next generations. As a fan, I have the advantage of having a thorough understanding of the LEGO® system, which definitely helps when you present your ideas or have to develop a product.
Like I mentioned before, it can be extremely hard as a creative person to work in a setting with a lot of restrictions. Getting a design education prepares you for these kind of compromises and working within a team with different priorities. Ultimately, you need to be able to work within a team if you want to work here.
11. Will it be your first time to visit Japan? What are you most looking forward to?
Yes, it will be my first time in Japan. I am very excited, I have wanted to go for a long time now, but never committed to it. This will be the perfect opportunity. So far, I have mostly had the pleasure of interacting with the European and North American fans, this event will be a great way to meet and talk to more fans from Asia as I heard there will be a lot of different nationalities. I managed to plan my personal vacation in tandem with this event, so I will be visiting a couple of different cities to experience the breadth of Japan's nature, history and culture. I am a huge toy geek, so I am really looking forward to seeing all the action figures and model kits stores.
12. Any tips for aspiring builders and designers alike out there?
Keep building! You have to keep going. The only way to get better at something is by continuing to smash your head into whatever obstacle you find in your way. If you want to challenge yourself, you can try to build something outside of your comfort zone, but make sure to keep having fun. Learn from others, learn how to work with feedback. If you are just building for fun, you can learn how to interpret feedback and see what it important for you. If you are interested in becoming a designer, learn to work with feedback and see it as a way to work with restraints. In a professional setting you get flooded in feedback and it is important you know how to prioritize. Most importantly, believe in yourself. If you keep going and improving, there is nothing you can't do!