What is Brickmaster?
We are looking for talented builders of all ages to participate in the 2019 Brickmaster competitions!
The competition is divided into a kids division and a master division. Qualifying and final rounds will be carried out over the two days of Japan Brickfest, after which this year's Brickmasters will be decided
This year's kids division will take place on June 8th (Saturday), and the master division will be held on June 9th (Sunday). Each division will have a qualifying round in the morning and a final round in the afternoon.
※Final times for each round will be announced after the total number of participants has been determined.
The competition is free to enter so please join us if you think you are good enough!
Event Details
When: June 8th, 2018 (Saturday) and June 9th (Sunday), 2019
Kids Division Qualifying & Final Rounds, Saturday June 8th
Master Division Qualifying & Final Rounds, Sunday June 9th
*Schedule to be determined
Where: Black Box Theatre, Canadian Academy
Who can join?
Master division is for anyone junior high school age and over. You can choose any LEG0® bricks and parts that you are comfortable with up to a maximum weight of 2kg. You must bring your own parts.
Kids division is for elementary school children from 6 years old until 12 years old. Any child meeting those conditions can join. We will prepare the LEGO® bricks and parts for the competition. You cannot bring your own parts.
*For more details see the rules and regulations on this page.
How to Enter
Registration is now closed
Winner's Prizes
Prizes to be announced
Competition Rules
You must follow the theme and instructions of the MC and complete a model during a set time limit, usually between 20 to 30 minutes. Judges will score your model out of a total of 100 points. The highest scores will go through to the final. The winner of the final will become the 2019 Brick Master.
Judges will be looking for:
Originality: Are there unique ideas in your creation?
Skill: How you use the parts and show your skill in creating.
Theme and Time: Do you follow the theme and finish within the time limit.
Presentation: You will have 1 minute to explain your creation to the audience and judges.
*Judges will be skilled adult builders from around the world.
---
Additional Rules & Regulations
Master Division
All types of LEGO® bricks, parts, minifigures and accessories are ok! (as long as they are genuine LEGO® parts).
The total weight of parts must not be over 2kg. Brick Separaters are not included in this weight.
All parts must be 100% separated. Any parts found stuck together will cause you to be disqualified.
You are responsible for any parts that you bring. We are not responsible for any lost items.
Before the competition starts we will have a meeting with all the participants and check that your parts meet competition regulations. We will hold the parts temporarily until the competition starts. Remember to put your name on your parts box or case. We will do our best to keep the parts safe, but it is your responsibility to make sure that your box or case is 100% shut or locked so that no pieces fall out.
If you pass the qualifying round and go through to the final round, you must come to the stage before the final starts or you will be disqualified.
Kids Division
Participants can only use the classic/basic bricks and parts provided by Japan Brickfest.
You can not bring any of your own parts or bricks onto the stage.
Parents must join the pre-competition meeting with their participating children.
If you pass the qualifying round and go through to the final round, you must come to the stage before the final starts or you will be disqualified.
Winner's Gallery
2019
Masters Division: (from left to right)
1st place – Ryota Suzuki, 2nd place – Alice Finch, 3rd place – Iruya Egawa
2018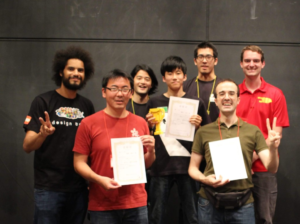 Masters Division: (from left to right)
3rd place – Tatsuya Okazaki, 1st place – Daigo Tōdō, 2nd place – Javier Soravilla